Make A Search Of Any, Latest News And Article.
---
---
---
Femi Adebayo took to his Instagram page to address a video of himself with another lady.

Many fans have been reacting to the video, especially to what the actor was caught on camera doing to the lady.
Femi Adebayo, In His defense said his wife would understand as he was just playing the role of a movie.
Sharing the video, he captioned:
"Before they start tagging @iyanaladuke .... 😏
My baby understands ... Abi baby, shebi you understand 💁‍♂️ Reposted from @laidebakare Playing #Dirtygame the movie 🎥 cc @femiadebayosalami"
6 Key Facts You Never Knew About Femi Adebayo: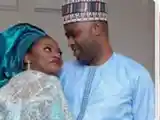 Click to open high quality image >>
1. Femi Adebayo is a Nigerian lawyer, film actor, director, producer and Special Adviser to the Governor of Kwara State on Arts, Culture and Tourism.
2. He is the son of the veteran actor, Adebayo Salami.
3. He was born in Lagos, southwest Nigeria, but originates from Ilorin, Kwara State.
4. He is a graduate of University of Ilorin where he obtained a bachelor's degree in Law, and earned a master's degree in Law at the University of Ibadan.
5. He began acting in 1985, the same year he featured in his father's first movie titled Ogun Ajaye
6. He remarried after a breakup with his first wife. He married Omotayo Adebayo, In 9th of October 2016 after staying out of marriage for eight years. They and have a son. Although He has three children from the first marriage.
You Can Also Add Your site links or site banners on Buzznaija forum and get more people on your site. we can also promote your products and services and get you more customers. just
Click Here
Comment:
no comment
Forum Categories
general
( 3)
celebrities
( 18)
coronavirus
( 2)
jokes
( 3)
news
( 10)
health
( 1)
relationship
( 1)
religion
( 4)
crime
( 3)
education
( 3)
cheats
( 1)
educative
( 4)
gossips
( 3)
world news
( 1)
weird
( 2)
stories
( 3)
sport
( 2)
lifestyle
( 3)
global news
( 1)
news forum
( 3)
general forum
( 1)
Statistics
•Total Forum
( 25 )
•Total Post
( 80 )
•Total File
( 0)
•Total User
( 1 )
•Last Registered
(
Lagosboi
)
•Online Now: Admin (1) User (0) Guest (1)
ACTIVE NOW
Admin
|
guest
|
[See All]