Make A Search Of Any, Latest News And Article.
---
---
---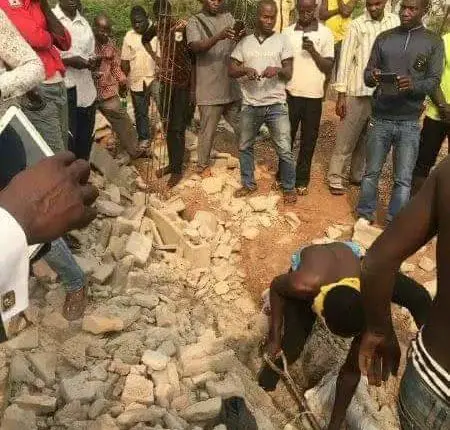 Osogbo – There was confusion in Ikirun, Ifelodun Local Government Council Area of Osun State when a four-year-old baby girl was allegedly buried alive in a church.
The incident happened at Christ Gospel Apostolic Church (CGAC) located at Orita Gbona, Ikirun closed to the Akinrun palace.
Police acting on a tip-off, stormed the premises of the church and detectives on the order of the Divisional Police Officer, Sani Hassan exhumed the body of the victim for autopsy examination.
Hassan who confirmed the incident to newsmen said that the pastor in charge of the church, simply identified as Lere Ogundapo has been arrested and helping the police in their investigation.
The DPO noted that he was the one that ordered his men to exhume the corpse from the church premises for autopsy.
When newsmen visited the church, a team of policemen were inside and outside of the church. They used their Mazda patrol vehicle to block the entrance of the Church to prevent people from entering and exiting the church premises.
An eyewitness identified as Seyi Kolade, he said he heard the noise and rushed towards it.
Click to open high quality image >>
On getting to the entrance of the church, he was surprised to see police digging a section of the church where the body of the girl was later exhumed.
You Can Also Add Your site links or site banners on Buzznaija forum and get more people on your site. we can also promote your products and services and get you more customers. just
Click Here
Comment:
no comment
Forum Categories
general
( 3)
celebrities
( 18)
coronavirus
( 2)
jokes
( 3)
news
( 10)
health
( 1)
relationship
( 1)
religion
( 4)
crime
( 3)
education
( 3)
cheats
( 1)
educative
( 4)
gossips
( 3)
world news
( 1)
weird
( 2)
stories
( 3)
sport
( 2)
lifestyle
( 3)
global news
( 1)
news forum
( 3)
general forum
( 1)
Statistics
•Total Forum
( 25 )
•Total Post
( 80 )
•Total File
( 0)
•Total User
( 1 )
•Last Registered
(
Lagosboi
)
•Online Now: Admin (1) User (0) Guest (1)
ACTIVE NOW
Admin
|
guest
|
[See All]